Thirty-year fixed loan rates were higher, 15-year fixed interest rates were unchanged, while 5/1 ARM rates moved up a notch Tuesday, according to a NerdWallet survey of mortgage rates published by national lenders this morning.
Rates on 30-year mortgages are at their highest level in three weeks.
---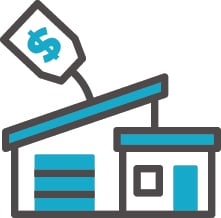 The most popular and most expensive home styles
A home's appearance is defined by its architectural style, and like fashion trends, certain looks can go in and out of favor. And yet there are always the timeless styles that defy the whims of a decade.
In an analysis of home listings, Realtor.com determined the most popular and most valuable architectural styles in the U.S. The favored look in 29 states: the ranch home.
These one-story houses are easily customized and simple to build, coming into favor in the 1960s and still on the top of the list of architectural styles today.
Other popular home designs include the traditional, colonial and bungalow.
The most expensive architectural style, topping out with a median price of nearly $750,000, was the Mediterranean, also known as the Tuscan style. Modern homes have gained the most value in the last four years, according to the study.
"Modern homes are built to be more energy-efficient and modern-looking," Tim Cannan, president of PreservationDirectory.com, said in the report on Realtor.com. "It's easier to heat and cool them, and they're cheaper to repair as opposed to Mediterranean or Spanish style — those red clay roofs could wind up costing much more. So it's really the size and scope that determines what people can afford."

Homeowners looking to lower their mortgage rate can shop for refinance lenders here.
NerdWallet daily mortgage rates are an average of the published APR with the lowest points for each loan term offered by a sampling of major national lenders. Annual percentage rate quotes reflect an interest rate plus points, fees and other expenses, providing the most accurate view of the costs a borrower might pay.
More from NerdWallet
Compare online mortgage refinance lenders
Compare mortgage refinance rates
Find a mortgage broker
Hal Bundrick is a staff writer at NerdWallet, a personal finance website. Email: [email protected]. Twitter: @halmbundrick