Thirty-year fixed mortgage rates held steady, while 15-year fixed and 5/1 ARM rates rose on Tuesday, according to a NerdWallet survey of mortgage rates published by national lenders this morning.
---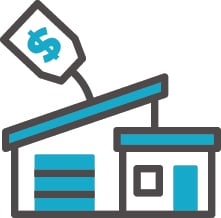 Survey: Student loan debt, affordability hamper homeownership
Homeownership is still an important part of the American dream, say 89 percent of adults surveyed by NeighborWorks America, a nonprofit that works in affordable housing and community development.
But many Americans are still struggling to reach their goal of owning a home. Student loan debt seems to be a contributing factor.
According to the survey, 30 percent of adults knew someone who put off purchasing a home due to the burden of student loan debt. This number is up from 28 percent last year and 24 percent in 2014. Fewer student loan debt carriers said their debt was "somewhat or very much" an obstacle to homeownership compared to last year — 53 percent to 57 percent — but the number has risen from 49 percent in 2014.
Overall affordability is also an issue among those who wish to buy a home. Less than half of the survey respondents said that where they live is affordable for first-time homebuyers, while 56 percent said that rent prices are too high for people to save up for a home in their area. More than half of nonwhite renters surveyed said that rent is too high where they live, making it difficult to save for homeownership.
"With the homeownership rate at the lowest point in decades, and minority homeownership plunging even further, these data signal a weak homebuying market going forward, despite near record-low mortgage rates and broad-based national income growth," Paul Weech, president and CEO of NeighborWorks America, said in a news release last week.
Homeowners looking to lower their mortgage rate can shop for refinance lenders here.
NerdWallet daily mortgage rates are an average of the published APR with the lowest points for each loan term offered by a sampling of major national lenders. Annual percentage rate quotes reflect an interest rate plus points, fees and other expenses, providing the most accurate view of the costs a borrower might pay.
More from NerdWallet
Compare online mortgage refinance lenders
Compare mortgage refinance rates
Find a mortgage broker

Michael Burge is a staff writer at NerdWallet, a personal finance website. Email: [email protected].