Thirty-year fixed, 15-year fixed and 5/1 ARM rates all increased slightly on Tuesday, according to a NerdWallet survey of mortgage rates published by national lenders this morning.
---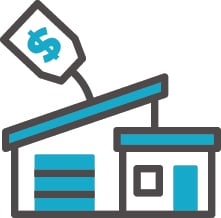 Rural areas will see greatest increase in senior population
Within the next few decades, rural areas will see more growth in the 65-and-older population than urban areas, according to a report from the Urban Institute released last week. Many of the homes in rural areas are aging fast as well, and these aging homes may not be suitable for elderly homeowners.
The report suggests that urban population growth will outpace rural population growth, which could shift the focus on new and updated housing away from rural areas. The report calls for increased rehabilitation of aging homes in rural areas, and for increased training and capital for rehabilitation projects. Moving into smaller, newer homes may also be better for seniors. And expanding home equity programs to allow older homeowners who are still mobile to tap into home equity and update properties could be helpful.
"The number of aging homes that are good candidates for rehabilitation is expanding much faster than new households throughout rural America, making this rehabilitation need urgent," the report said. "Many households can make the investments themselves, and installing energy-efficient systems can offer savings. And as demand grows for home retrofits, so will the experience of local contractors and the building industry more broadly, increasing innovation and decreasing cost."
According to the 2016 Aging-in-Place Report released this month by HomeAdvisor, 61 percent of homeowners age 55 and older plan to remain in their homes indefinitely. This report also recommends that homeowners who want to age in place prepare to do so by making certain upgrades. But what's needed is more education that explains what it means to not just age in place, but also to "thrive in place," says the report.
Homeowners looking to lower their mortgage rate can shop for refinance lenders here.
NerdWallet daily mortgage rates are an average of the published APR with the lowest points for each loan term offered by a sampling of major national lenders. Annual percentage rate quotes reflect an interest rate plus points, fees and other expenses, providing the most accurate view of the costs a borrower might pay.
More from NerdWallet
Compare online mortgage refinance lenders
Compare mortgage refinance rates
Find a mortgage broker
Michael Burge is a staff writer at NerdWallet, a personal finance website. Email: [email protected].