After a couple of steady days, mortgage rates took a noticeable jump on Wednesday morning. Thirty-year fixed loans reached the highest we've seen since Donald Trump's election win on Nov. 8 — and the highest since NerdWallet began its survey of mortgage rates published by national lenders back in May.
---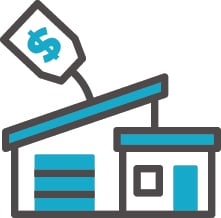 Existing-home sales up in October
For the second month in a row, existing-home sales rose in October, according to the National Association of Realtors. The pace of sales in October increased by 5.9% compared with a year ago, and exceeded June's pace as the highest since February 2007.
"October's strong sales gain was widespread throughout the country and can be attributed to the release of the unrealized pent-up demand that held back many would-be buyers over the summer because of tight supply," Lawrence Yun, NAR chief economist, said in a news release this week. "Buyers are having more success lately despite low inventory and prices that continue to swiftly rise above incomes."
Housing inventory is currently 4.3% lower than a year ago, while the median existing-home price this October saw a 6% jump, to $232,200, compared with last October's median price of $219,100.
"The good news is that the tightening labor market is beginning to push up wages and the economy has lately shown signs of greater expansion," Yun said. "These two factors and low mortgage rates have kept buyer interest at an elevated level so far this fall."
Yun pointed to increased housing starts in October as an indicator that buyers may soon have more choices and sellers a better shot at seeing price growth. "A prolonged continuation of the robust single-family starts pace seen last month would go a long way in giving homeowners much-needed assurance that they can list their home for sale and find a new home to buy within a reasonable time frame," said Yun.
Homeowners looking to lower their mortgage rate can shop for refinance lenders here.
NerdWallet daily mortgage rates are an average of the published APR with the lowest points for each loan term offered by a sampling of major national lenders. Annual percentage rate quotes reflect an interest rate plus points, fees and other expenses, providing the most accurate view of the costs a borrower might pay.
More from NerdWallet
Calculate your mortgage payment
The pros and cons of a HELOC
What is an FHA loan?
Michael Burge is a staff writer at NerdWallet, a personal finance website. Email: [email protected].