Mortgage rates across the board inched up slightly on Wednesday, according to a NerdWallet survey of mortgage rates published by national lenders this morning.
---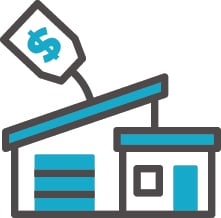 First-time homebuyer activity increasing
Released Tuesday by the American Enterprise Institute, a public policy think tank, the First-Time Buyer Mortgage Risk and Mortgage Share Indices showed a 14% year-over-year increase in August for first-time buyer volume for agency-purchase loans — those backed by government-sponsored agencies, like Fannie Mae and Freddie Mac. First-time buyer volume was up 39% compared to two years ago.
"Contrary to news reports, the first-time buyer is alive and well in today's home purchase market," wrote Edward J. Pinto, co-director, and Tobias Peter, senior research analyst, of the American Enterprise Institute's International Center on Housing Risk.
First-time buyer loans that were subprime — loans that usually have higher interest rates to offset higher credit risk — fell by 1% to 53% compared to August 2015. The combined First-Time Buyer Mortgage Share Index, which measures first-time buyers for both government-backed and private-sector mortgages, was down from 51.2% the prior August to 50.8%.
According to the release, the national seller's market reached its 50th month due to solid job gains, low mortgage rates and high and growing leverage. Helping out the seller's market is the rising national median home price in comparison to median income, limiting affordability.
"House prices will continue to rise as long as too much demand keeps chasing too little supply," the report said. "Therefore, proposals such as lower mortgage insurance premiums or higher loan limits will only stimulate more demand, worsening affordability — not improving it."
Homeowners looking to lower their mortgage rate can shop for refinance lenders here.
NerdWallet daily mortgage rates are an average of the published APR with the lowest points for each loan term offered by a sampling of major national lenders. Annual percentage rate quotes reflect an interest rate plus points, fees and other expenses, providing the most accurate view of the costs a borrower might pay.
More from NerdWallet
The pros and cons of a HELOC
The best lenders for FHA loans
Calculate your refinance savings
Michael Burge is a staff writer at NerdWallet, a personal finance website. Email: [email protected].