Thirty-year and 15-year fixed mortgage rates saw a considerable jump on Wednesday, while 5/1 ARM rates remained the same, according to a NerdWallet survey of mortgage rates published by national lenders this morning.
---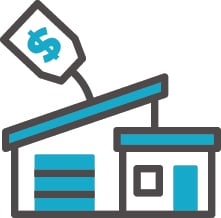 Purchase originations forecast up, refinance down
Echoing the predictions of other industry outlook reports, the Mortgage Bankers Association expects purchase mortgage originations to go up and refinance originations to go down in 2017.
"Strong household formation coupled with further job growth, rising wages and continuing home price appreciation will drive strong growth in purchase originations in the coming years," Michael Fratantoni, MBA's chief economist, said in a news release on Tuesday.
Assuming rates don't drop in the wake of Brexit Part 2 or worse, Fratantoni said refinance activity will slow as a result of increasing rates and the fact that many homeowners had the opportunity to take advantage of historically low rates these past several months.
The MBA expects an 11 percent increase next year in purchase originations, totaling around $1.10 trillion. Refinance originations will fall by 40 percent compared to this year, totaling $529 billion. Forecasts for 2018 were published as well: $1.18 trillion for purchase and $410 billion for refinance.
"Rate increases through 2017 and 2018 will likely be gradual, as Chair [Janet] Yellen and the Fed have indicated that they are going to be cautious going forward," said Fratantoni. "Historically low, and in some cases negative, rates around the world continue to put downward pressure on longer-term U.S. rates, keeping them lower than the domestic growth environment would otherwise warrant. We expect that the 10-Year Treasury rate will stay below 3% through the end of 2018, and 30-year mortgage rates will stay below 5% over the same period."
Homeowners looking to lower their mortgage rate can shop for refinance lenders here.
NerdWallet daily mortgage rates are an average of the published APR with the lowest points for each loan term offered by a sampling of major national lenders. Annual percentage rate quotes reflect an interest rate plus points, fees and other expenses, providing the most accurate view of the costs a borrower might pay.
More from NerdWallet
Compare online mortgage refinance lenders
Compare mortgage refinance rates
Find a mortgage broker
Michael Burge is a staff writer at NerdWallet, a personal finance website. Email: [email protected].