Mortgage rates are marking a three-year low, falling for the third consecutive week. But while prospective homeowners are seeing more buying power, lending standards are tightening.
Freddie Mac's just-released weekly survey of lenders shows the following average rates for the most popular home loan terms:
30-year fixed-rate mortgages averaged 3.57% with an average 0.5 point for the week ending May 12, 2016.  A year ago, the rate averaged 3.85%.
15-year fixed rates averaged 2.81% with an average 0.5 point. The same term priced at 3.07% a year ago.
5-year adjustable-rate mortgages priced at 2.78% with an average 0.5 point. Last year at this time, the same ARM averaged 2.89%.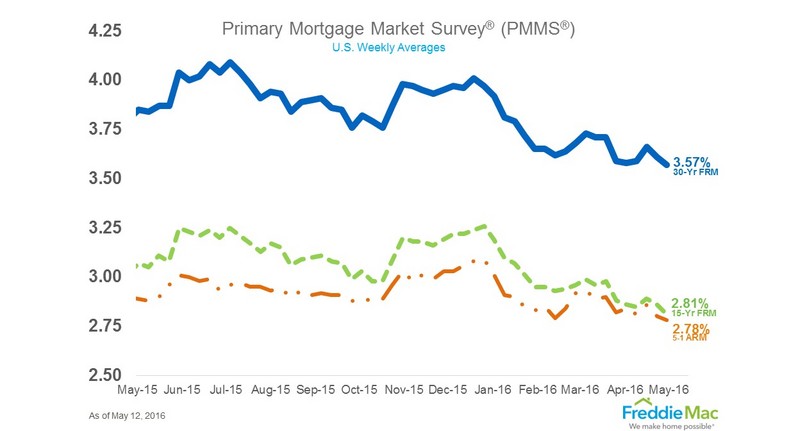 "Disappointing April employment data once again kept a lid on Treasury yields, which have struggled to stay above 1.8% since late March. As a result, the 30-year mortgage rate fell four basis points to 3.57%, a new low for 2016 and the lowest mark in three years," Sean Becketti, chief economist for Freddie Mac, said in a release. "Prospective homebuyers will continue to take advantage of a falling rate environment that has seen mortgage rates drop in 14 of the previous 19 weeks."
Meanwhile, mortgage application volume increased slightly from one week earlier, rising 0.4%, according to the Mortgage Bankers Association report for the week ending May 6, 2016.
Purchase applications were up 0.4%, as refi applications rose 0.5%. Overall, home purchase loan applications remain 14% higher than the same week one year ago.
Low interest rates, but tight inventory
With mortgage rates hovering at three-year lows, it would seem that prospective homebuyers have little to worry about. But with tight home inventory in many markets across the nation, there remain challenges.
"The downward movement in rates this year has been a gift to the well-qualified potential buyer, as the lower interest rate provides for almost 6% more buying power," says Jonathan Smoke, chief economist for Realtor.com.
But historically low housing inventory is sparking bidding wars in hot markets like Dallas, San Diego and San Jose, California. The National Association of Realtors says single-family home prices rose in 87% of measured markets. Median prices were up 6.3% in the first quarter of this year, compared to the same period in 2015.
And sustained low mortgage rates are having another effect: Lenders are taking on less risk.
"There are downsides to lower mortgage rates. One disadvantage is that credit availability declines marginally as the rates decline," Smoke says. "With little margin, lenders become more risk-averse, so indicators of credit tightness like the average FICO score have ticked up as rates have gone down."
The Mortgage Bankers Association says credit availability decreased again in April, continuing a tightening trend that began in November of last year.
Smoke says that while mortgage rates are expected to remain under 4% through early fall, buyers should monitor the market closely and expect short-term fluctuations.
"In this type of environment, it will be crucial for would-be buyers or refinancers to stay on top of rates, work closely with mortgage brokers or lenders, and learn about options like locks and float-downs," Smoke says. "However, they do come at a price, so you need to weigh the potential gains against the costs with your lender."
Hal Bundrick is a staff writer at NerdWallet, a personal finance website. Email: [email protected]. Twitter: @halmbundrick