Mortgage Market Roundup: Interest Rates (8/20/2015)
Potential homebuyers and homeowners looking to refinance are still seeing a window of opportunity as mortgage rates mostly held steady in the past week.
"There was little movement in financial markets this week as the 30-year fixed mortgage rate remained steady, dropping only 1 basis point to 3.93%," Sean Becketti, chief economist for Freddie Mac, said in a release. "Housing markets have responded positively to low mortgage rates — the 30-year fixed mortgage rate has been below 4% for five consecutive weeks. Overall housing markets remain on track for the best year since 2007."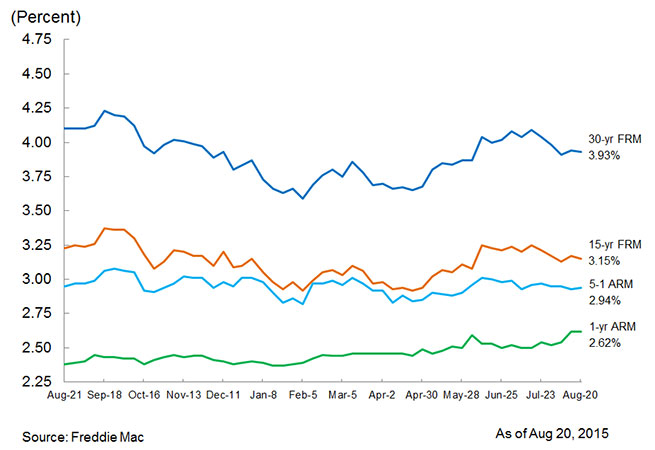 Homeowners refinance amid favorable rates
As mortgage rates remain in the neighborhood of 4%, borrowers are taking the opportunity to refinance higher-rate home loans. The Mortgage Bankers Association reports refinance applications were up 7% from the previous week, through Aug. 14. Demand was particularly driven by jumbo loan refinancing.
Overall mortgage application volume gained 3.6%.
New housing starts highest since 2007
The housing inventory shortage may be soon be seeing some relief. New construction is gaining momentum, as single-family housing starts rose 12.8% in July, according to the National Association of Home Builders. That's the fastest pace of new home starts since Oct. 2007.
"Our builders are reporting more confidence in the market, and are stepping up production of single-family homes as a result," said Tom Woods, NAHB Chairman, in a release. "However, builders are still reporting problems accessing land and labor."
The recovery varies widely by region, however. Combined single-family and multifamily new construction starts rose in the Midwest (+20.1%) and South (+7.7%) but fell in the Northeast (-27.5%) and West (-3.1%).
More from NerdWallet:
Hal Bundrick is a staff writer at NerdWallet, a personal finance website. Email: [email protected]. Twitter: @halmbundrick