Instead of another downward turn, mortgage rates are holding near 2016 lows. Meanwhile, new construction has picked up more than economists expected, which is good news for homebuyers and the housing market overall.
Freddie Mac's just-released weekly survey of lenders shows the following average rates for the most popular home loan terms:
30-year fixed-rate mortgages averaged 3.58% with an average 0.6 point for the week ending May 19, 2016.  A year ago, the rate averaged 3.84%.
15-year fixed rates averaged 2.81% with an average 0.5 point. The same term priced at 3.05% a year ago.
5-year adjustable-rate mortgages priced at 2.8% with an average 0.5 point. Last year at this time, the same ARM averaged 2.88%.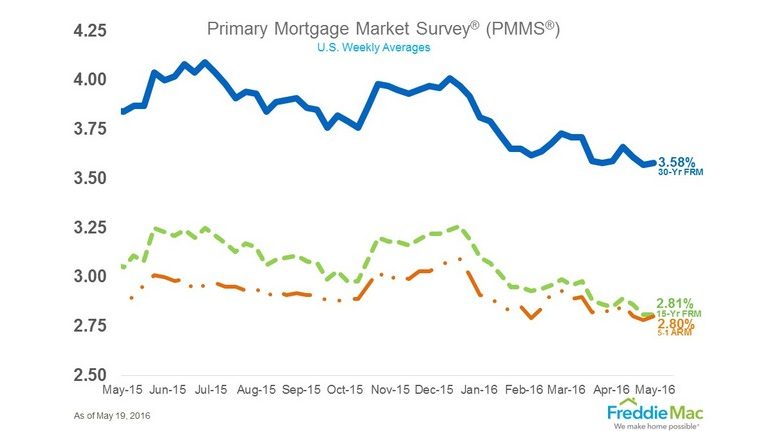 "The 10-year Treasury yield saw minimal movement over the past week, despite encouraging news from April's consumer spending and CPI data. Accordingly, the 30-year mortgage rate moved up just 1 basis point from its 2016 low to 3.58 percent," Sean Becketti, chief economist for Freddie Mac, said in a release. "Although there was minimal change in rates this week, the hawkish tone of Wednesday's Fed minutes release had an immediate impact on Treasury yields, and could possibly shake up next week's survey results."
Meanwhile, mortgage application volume dipped slightly by 1.6% from one week earlier, according to the Mortgage Bankers Association report for the week ending May 13, 2016.
Purchase applications were down 6%, as refi applications rose 1%. Overall, home purchase loan applications are 12% higher than the same week one year ago.
New construction picks up more than expected
The housing market is in store for some good news: new construction has picked up again. Total U.S. housing starts rose 6.6% in April to a seasonally adjusted annual rate of nearly 1.17 million housing starts, above the revised March estimate of 1.07 million, according to a joint announcement from the U.S. Census Bureau and Department of Housing and Urban Development. Single-family housing starts increased 3.3% to a seasonally adjusted annual rate of 778,000 units, and multifamily starts (usually apartment buildings) rose 13.9% to 394,000 units.
Another encouraging sign: Single-family permits pulled by homebuilders ticked up by 1.5% to a rate of 736,000, while multifamily permits jumped 8% to 380,000. What does that mean for homebuyers and even renters? More options. A pickup in newly built homes, in particular, is welcome news for prospective buyers who've been desperately looking for houses in markets with tight existing-home inventories, bidding wars and rising prices.
"This month's modest rise in housing production is consistent with builder sentiment, which has remained steady and in positive territory in recent months," said National Association of Home Builders Chairman Ed Brady in a release.
Adding to Brady's cautious optimism, NAHB chief economist Robert Dietz said the association is anticipating a stronger ramp up of housing construction for the rest of 2016 "given a strengthening job market, low mortgage interest rates and favorable demographics."

Deborah Kearns is a staff writer at NerdWallet, a personal finance website. Email: [email protected]. Twitter: @debbie_kearns