Mortgage Market Roundup: Interest Rates (7/16/15)
Buyers took a break, but refinance applications rose as interest rates nudged higher during the past week.
30-year fixed-rate mortgages rose to 4.09% with an average 0.6 point for the week ending July 16, 2015, according to Freddie Mac's weekly market survey. A year ago, the rate averaged 4.13%.
15-year fixed rates edged up to 3.25% with an average 0.6 point. The same term priced at 3.23% a year ago.
5-year adjustable-rate mortgages climbed to 2.96% with an average 0.5 point. Last year at this time the same ARM averaged 2.97%
"The crisis in Greece continues to generate volatility in U.S. Treasury yields. The tentative agreement hammered out last weekend gave investors the confidence to pull back a bit from Treasuries," said Sean Becketti, chief economist for Freddie Mac, in a release. "As a result, the average rate on a 30-year fixed-rate mortgage rose five basis points this week to 4.09%, the highest level since October of last year."
[Read More: Compare Mortgage Rates]
The Mortgage Bankers Association's weekly survey of lenders reported refinance activity increased by 4% for the week ending July 10. Homebuyers took a holiday though, as mortgage applications fell 1.9% from the previous week.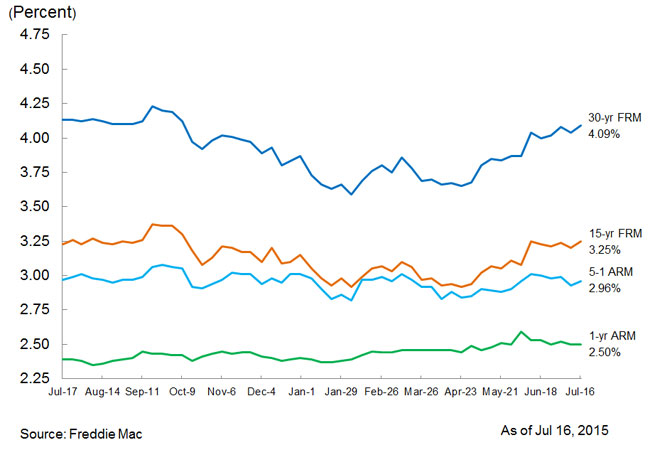 Prospective first-time homeowners are willing to forgo their Frappuccinos
Millennials looking to buy their first home are willing to give up the Internet, cell phones and even their Frappuccinos in order to save for a down payment. A survey by the Collingwood Group reports that nearly two-thirds (65%) of people 25 to 34 are willing to sacrifice modern conveniences — including cable TV and Starbucks — in order to financially qualify to buy.
And apparently the digital natives will be going old-school when it comes to financing. Approximately 75% of those polled indicated they would apply for a mortgage loan with a traditional bank rather than an alternative lender or nonbank institution.
Foreclosures down, delinquencies lowest since January 2008
The healing of the housing industry goes on as foreclosure inventory continues to recede — down more than 27% in May from one year ago. Completed foreclosures, a measure of the total number of homes repossessed, are down 65% from their peak in September 2010, according to CoreLogic.
Serious delinquencies are at the lowest level since January 2008, though still at a very high rate in several metro areas, including New York City, central Florida, Chicago and Baltimore.
Worried about home loan rates? Expert says ignore the noise
While the media continues to anguish over interest rates, attempting to predict an "inevitable" move by the Federal Reserve, one expert says "don't be fooled" by the noise.
"All of this stress has led to a near-constant murmur in financial commentary about when the U.S. Federal Reserve might officially raise the target federal funds rate for the first time since December 2008," writes Realtor.com chief economist Jonathan Smoke in a blog post. "But don't be fooled or freaked — it really won't make much of a difference to your mortgage rate. While talking heads feverishly debate the exact timing of the formal policy action, the mortgage market has already moved on."
Smoke notes that mortgage rates are more aligned to long-term bond rates, not the short-term market that the Fed fine-tunes. While short-term rates haven't found a direction yet, average mortgage rates have risen almost half a point (0.50%) since the beginning of the year.
"In fact, mortgage rates are moving quite a bit from day to day. Over the past 45 days, the average 30-year rate has varied by more than 25 basis points. While the longer-term trend is up, rates are moving up and down quite a bit from one day to the next," Smoke says.
"The key lesson here is that the mortgage market is already moving," he adds. "Do follow what's really happening to rates in your market — and while they're moving up this year, they're still incredibly low from a historical viewpoint."
More from NerdWallet:
Hal Bundrick is a staff writer at NerdWallet, a personal finance website. Email: [email protected]. Twitter: @halmbundrick
---
Image via iStock.