Thirty-year and 15-year fixed rates dropped slightly, while 5/1 ARM rates held steady Thursday, according to a NerdWallet survey of mortgage rates published by national lenders this morning. The relative calm follows more than a week of increases in mortgage rates triggered by uncertainty after Donald Trump's election win on Nov. 8.
---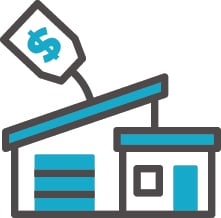 Income inequality is among the trends shaping the housing market
In its November Insight report, released this week, Freddie Mac points to three developing trends affecting the U.S. housing market:
Increasing income inequality.
Rising land costs.
Increased land use restrictions.
According to the report, the long-term impacts of these three trends may result in increased housing inequality within cities and a rise in the volatility of home prices where land is limited. Freddie Mac also raised the prospect of the intensification of homeownership as a means of wealth creation in richer states. In addition, it said the sectors of the mortgage market could shift, with an increase in higher-income mortgages such as jumbo loans and a potential reduction in lower-income mortgages such as FHA and VA loans.
"These three long-standing trends — ones that have been building quietly over decades — ultimately will have more influence on housing than the week-to-week oscillations of mortgage rates or any of a host of other short-term indicators of housing activity," says Sean Becketti, chief economist of Freddie Mac.
Becketti says these trends influence both housing supply and demand. "The change in income distribution shifts the demand for housing — both the total demand for homeownership and the demand for different types of housing. The rising share of land costs shifts the supply of housing — houses cost more than before because of the higher cost of the land component of the house. And land use restrictions limit the supply of more-affordable housing in richer states. No analysis of the future housing market is complete without considering them."
Homeowners looking to lower their mortgage rate can shop for refinance lenders here.
NerdWallet daily mortgage rates are an average of the published APR with the lowest points for each loan term offered by a sampling of major national lenders. Annual percentage rate quotes reflect an interest rate plus points, fees and other expenses, providing the most accurate view of the costs a borrower might pay.
More from NerdWallet
Calculate your mortgage payment
Compare mortgage rates
How much house can you afford?
Michael Burge is a staff writer at NerdWallet, a personal finance website. Email: [email protected].