7 Ways to Avoid Becoming a Scary Student Loan Stat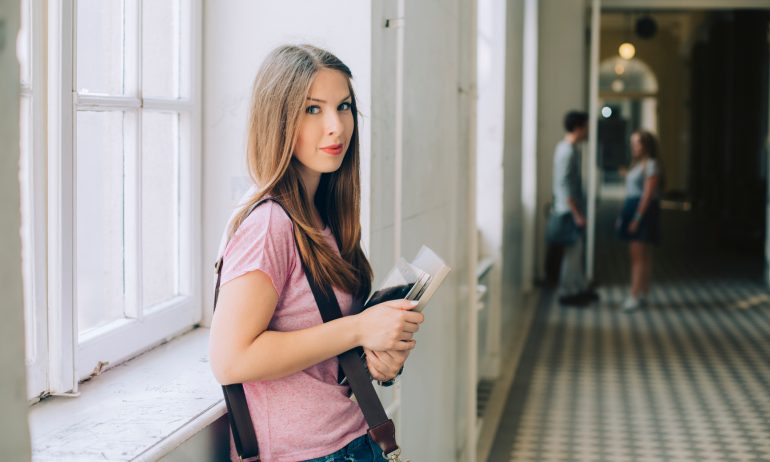 Many or all of the products featured here are from our partners who compensate us. This may influence which products we write about and where and how the product appears on a page. However, this does not influence our evaluations. Our opinions are our own.
A typical student loan horror story goes something like this: You're a millennial with crippling, six-figure debt; you're underemployed; and you're on the brink of default and living in your parents' basement. But while that's the case for some student loan borrowers, it doesn't have to be the case for you.
Here are seven ways to minimize and manage your debt — and avoid those worst-case scenarios.
1. Exhaust federal student aid first
Scary stat: 47% of private loan borrowers took out less in federal loans than they could have. (Source: The Institute for College Access and Success, June 2016.)
Private student loans — obtained through a bank, credit union or online lender — tend to carry higher interest rates than federal loans. Private loans also offer fewer borrower protections, repayment options and opportunities for forgiveness, and they generally require a co-signer.
Before taking on private debt, submit the Free Application for Federal Student Aid, or FAFSA, to find out if you qualify for any grants, scholarships, work-study and federal loans. If you have any gaps that you and your family can't cover out of pocket, consider your private student loan options by comparing lenders' interest rates, fees and borrower protections.
2. Limit how much you borrow
Scary stat: 5% of student debt holders owe more than $100,000 in debt, as of 2016. (Source: Federal Reserve Bank of New York.)
Taking on more debt than you can handle is the quickest way to impact your financial life for decades. Before you borrow, understand the full scope of your college costs.
Use the net price calculator available on your school's website to determine out-of-pocket costs you'll be expected to pay. Once you've exhausted savings, grants, scholarships and work-study, experts recommend borrowing no more than you can expect to make in your first year out of college.
3. Sign up for automatic payments
Scary stat: 2.4 million Americans are 90 or more days delinquent on their student loan payments, as of 2016. (Source: Federal Reserve Bank of New York.)
Payments that are more than 90 days late begin to affect your credit score. And if you go too long without making a payment on your federal loans, they'll default and the government can garnish your wages and tax refund.
If you default on a private loan, your lender can send a debt collector after you or sue you in court to collect repayment, potentially via wage garnishment. If you default on either loan type, your lender or servicer can report it to credit bureaus, which would negatively impact your credit score."
To avoid the risk, sign up for automatic loan payments, which will typically get you a 0.25% discount on your interest rate, too. If you're having difficulty making payments, talk to your servicer about switching to an income-driven repayment plan.
4. Explore alternative repayment plans
Scary stat: 9 out of 10 of the federal loan borrowers at highest risk of default aren't enrolled in affordable repayment plans, as of May 2017. (Source: Consumer Financial Protection Bureau.)
The standard 10-year repayment plan is the fastest and least expensive way to pay off federal debt. But you'll need another option if your debt has become unmanageable or you've made multiple late payments.
There are six alternative federal repayment plans: graduated, extended and four income-driven repayment options. Use the federal repayment estimator to see which you're eligible for, and contact your servicer to enroll.
5. Work with your servicer if you're in default
Scary stat: More than two borrowers defaulted on their student loans every minute in 2016. (Source: Consumer Financial Protection Bureau.)
Default occurs when your payments are late: 270 days for federal loans and one day for private loans. You'll face calls from bill collectors and your balance will grow due to fees and interest.
If you can't make payments, work out a new repayment plan with your lender or servicer as soon as possible. And if you still end up in default, your federal loan servicer can set you on the right path. Your options: repaying the debt entirely; earning rehabilitation by making nine on-time loan payments for 10 consecutive months; or consolidating your defaulted loans into a direct consolidation loan and making payments on an income-driven plan.
If your private loan defaults, your servicer might temporarily lower your payments or offer you other short-term options, such as deferment or forbearance.
6. Watch out for student debt relief scams
Scary stat: 44% of borrowers surveyed said they have been contacted by a student debt relief company. (Source: NerdWallet and Student Debt Crisis survey "Student Loan Relief Companies Cash in on Confusion," August 2016.)
Student debt relief companies charge high fees to enroll borrowers in debt relief plans, such as federal consolidation, forgiveness and income-driven repayment. But you can enroll in these plans for free through your loan servicer.
There's not much you can do to stop calls, letters and emails from student debt relief companies, but you can learn how to spot a scam.
7. Keep an eye on retirement, too
Scary stat: 73% of borrowers delayed saving for retirement due to student loan debt. (Source: American Student Assistance, 2013.)
Retirement might not be top of mind when you receive your student loan bill every month, but the sooner you begin saving, the more time your money has to grow. And if your company offers a 401(k) plan with a matching benefit, you should take advantage.
You should make the minimum payment on your student loans each month, but make sure you also meet other financial goals, including retirement. Student loans aren't the worst debt to have, because they charge fairly low rates compared with other debts, such as credit card balances. After making minimum student loan payments, first pay off your high-interest debts, then fill your emergency fund and finally, put money in a retirement account, such as a 401(k) or IRA.
Find ways to save with NerdWallet
Really get to know your money and find cash you can put aside and grow.