Pressure Washing Insurance: What It Is, How to Get It
Pressure washing insurance is available from online marketplaces, brokers or directly from insurers.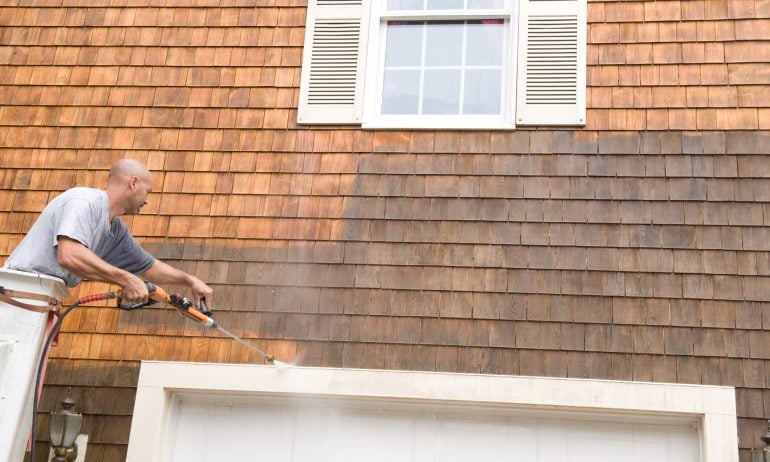 Many or all of the products featured here are from our partners who compensate us. This may influence which products we write about and where and how the product appears on a page. However, this does not influence our evaluations. Our opinions are our own. Here is a list of our partners and here's how we make money.
Pressure washing insurance can protect you and your pressure washing business from liability for damage to customers' property, slippery hazards, data hacks, employee injuries and other situations that can create big financial losses. You can buy pressure washing insurance online or over the phone, directly from an insurance company, or through an insurance marketplace or a third-party broker.
Pressure washing insurance is often composed of several different kinds of insurance coverage that protects pressure washing businesses from financial liability.
If you run a pressure washing business full time or just on the side, business insurance can be a smart move. It can protect you from the financial effects of various claims that would otherwise be your responsibility to pay.
Here are five steps to help you understand the kinds of that owners of pressure washing businesses should consider, plus how to find the right coverage.
Think about what kinds of risks your business faces so you know what kind of coverage you need.
Common risks such as injuries or losses of income are out there, but owners of pressure washing businesses may face more specific risks too, such as:
Take some time to think about the types of lawsuits, mistakes, accidents or natural disasters that might affect your business. Insurers will also consider, among other things, how big your business is, what kinds of jobs you take, where you're located and what kinds of assets you have when they calculate your risk and the cost of your coverage.
Here's a list of common types of pressure washing insurance that pressure washing businesses might need — and what those policies typically cover.
You may also be able to bundle multiple types of insurance into a. BOPs usually consist of general liability, commercial property and business interruption insurance, but can be customized to meet your business's needs.
To get the right business insurance, you have a few options.
Get multiple quotes from different providers before making a decision. When comparing providers, consider things such as:
After you purchase your insurance policies, take time to understand when your payments are due and how to manage your coverage — including how to file a claim, add endorsements or get a certificate of insurance.
Reevaluate your business insurance coverage annually. When your policies are up for renewal, think about how you like the coverage, costs and customer service you're getting, as well as any new risks you face. That way you'll always be sure you have the right coverage for your business.