Maybe you've racked up plenty of points and miles on your wedding spending and picked out the perfect destination for your honeymoon — now all you have to do is book it.
Or if you're in the early days of planning, you have opportunities to rack up rewards strategically as you make purchases for the big event.
No matter what stage you're in, here's how to book your honeymoon with points and miles.
Start saving
First things first: you'll want to start saving up points and miles right away. The sooner after your engagement, the better. Take stock of the points you already have, and take this opportunity to apply for a new card or two to claim generous welcome bonuses.
Since you'll likely be planning your wedding months (if not over a year) in advance, you have a lot of time to start racking up points and miles between now and your honeymoon.
» Learn more: The never-ending honeymoon: 7 years of traveling on points and miles
Book your flight
Whether you're paying with credit card points or airline miles, booking your flight with the travel rewards you've earned is a great way to erase one big cost when it comes to your honeymoon. Just be sure to do it at least several months in advance to find the best availability.
Thinking of traveling first class for this special occasion? Consider transferring your credit card points to your frequent flyer account instead of redeeming through your credit card's booking portal. The more expensive the flight, the better deal you're more likely to get when you book with airline miles instead of credit card points.
Book your hotel
Accommodations are another big-ticket honeymoon expense. As with flight redemptions, you can either use credit card rewards or hotel points to book a room. Keep an eye out for the best deal if you want to get the most bang for your buck. Some hotels offer a free night if you book five or more using points.
For example, Hilton Honors Silver, Gold and Diamond elite members get their fifth night free on award stays. Marriott also offers the fifth night free on award bookings, though this benefit is not restricted to elite members.
As for credit cards, the IHG® Rewards Club Premier Credit Card offers cardholders a fourth award night free when booking at least four consecutive nights.
Before you transfer points from a program like Chase Ultimate Rewards® to Marriott, Hyatt or IHG, check both booking portals to see which method requires fewer points.
» Learn more: IHG Rewards Club Premier review: Free nights on a silver platter
Book experiences
Most airlines offer special experience packages that you can book with points and miles, including cruises. Southwest, for example, offers tours, snorkeling luaus and other activities in Oahu, Hawaii, all of which can be booked with Rapid Rewards points.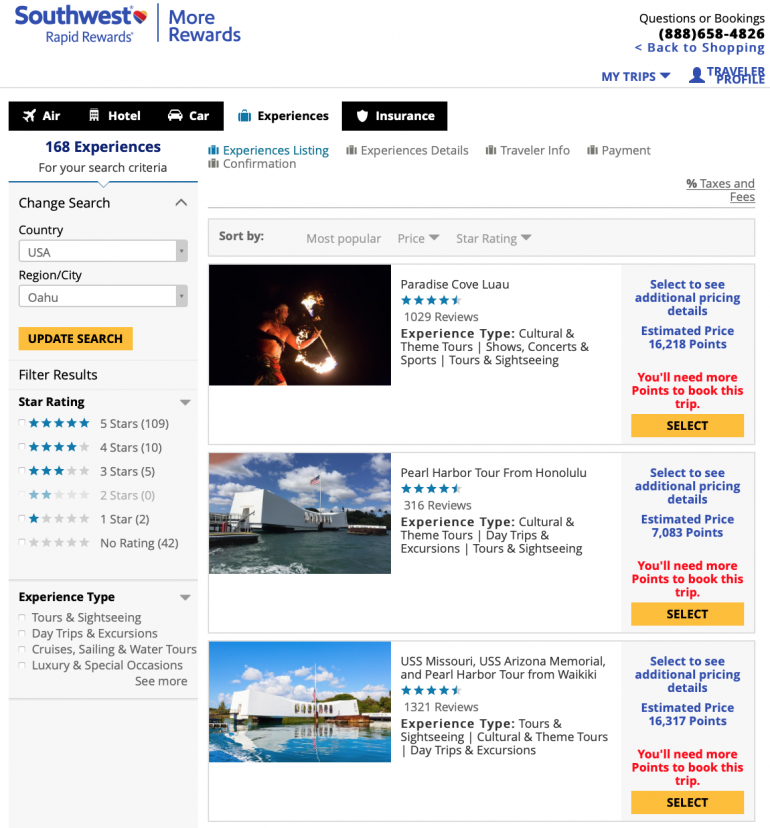 Chase Ultimate Rewards® allows allows you to book travel and activities directly through its booking portal. With a card like the Chase Sapphire Preferred® Card, points are worth 1.25 cents each. If you're headed to Bali on your honeymoon, you can book a "Best of Bali" tour that includes lunch for just 3,728 points per person.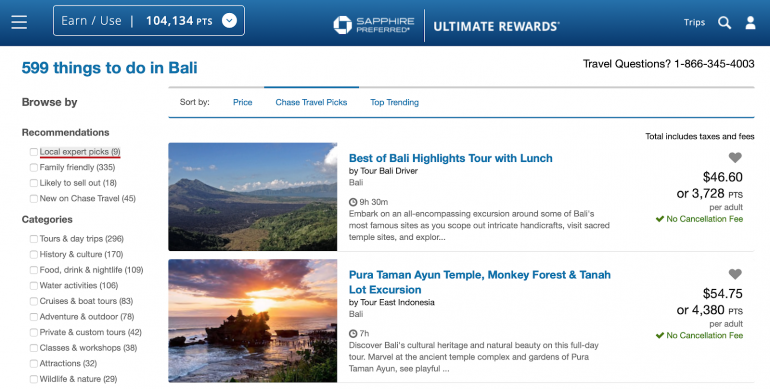 Meanwhile, the Capital One® Venture® Rewards Credit Card and Capital One® VentureOne® Rewards Credit Card let you pay for travel purchases and then erase those purchases with the points in your account. This is an easy option if you want to book an experience that's not offered directly from a rewards program.
» Learn more: Chase Sapphire Preferred review: A must-have for travelers
The bottom line
Booking your honeymoon with points and miles is an easy way to save cash at a time when you might really need it to take the next big steps in your married life. Keep your paycheck in your bank account and enjoy the experience without stressing about money as you use points and miles for everything from flights and hotels to once-in-a-lifetime experiences.
How to maximize your rewards
You want a travel credit card that prioritizes what's important to you. Here are our picks for
the best travel credit cards of 2020
, including those best for:
Planning a trip? Check out these articles for more inspiration and advice:
Best credit cards for getting married
How to use points and miles to book a Maui honeymoon
Find the best travel credit card for you