Homebuying Process: 7 Steps to Buying a House
The steps include getting your finances ready and finding the best mortgage and the right lender. Links to resources provided.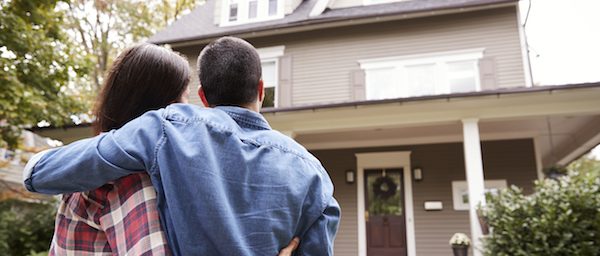 Many or all of the products featured here are from our partners who compensate us. This may influence which products we write about and where and how the product appears on a page. However, this does not influence our evaluations. Our opinions are our own. Here is a list of our partners and here's how we make money.
Buying a home doesn't have to be overwhelming. With this step-by-step guide, we've broken down the homebuying process to make it manageable and predictable, and to reduce the obstacles to purchasing a house.
Complete each of the steps below and you'll be well on your way to homeownership.
1. Check your credit score
Need a credit report check-up?
Sign up for an account to have your free credit report and score on-hand, all the time.
2. Set a down payment goal
Getting your personal finances in order is a crucial part of a smooth homebuying process. Now's the time to figure out what price range is affordable for you. A key component of that decision is determining how much you want to save for a down payment. Then, track your progress to that goal.
3. Find the best mortgage for you
Adjustable-rate (ARM) or fixed-rate? Government-backed or conventional? Before you decide which type of mortgage to pursue, it's important to learn the advantages and drawbacks of each one.
Choosing the right type of mortgage can boost your chances of approval or save you thousands in the long run. Next, you can get a clearer picture of your financial commitment by estimating your monthly mortgage payment, including interest and additional costs.
4. Find the right mortgage lender
Choosing a mortgage is a long-term commitment, so it's worth your time to shop around for the best mortgage lender. Be sure to ask about the closing costs you'll be responsible for, as the answer varies by lender. Keep an eye on current mortgage rates and compare multiple lenders so you can be confident that you're getting the best deal.
5. Get preapproved for a mortgage — then shop
Working with a lender to get preapproved for a mortgage is an important step in accurately determining your budget. A preapproval letter shows sellers and real estate agents that you're a serious buyer and can give you a crucial edge over competing home shoppers.
Keep in mind that a preapproval letter is typically valid for only 60 to 90 days, after which it will need to be updated.
Then for the fun part: shopping for your home. Is a good school district important to you? Access to public transportation? Can't live without a big yard? Figuring out which home features you can and can't live without is as important as choosing a great neighborhood.
Working with the right real estate agent can help you navigate these questions and get you ready to make an offer.
6. Submit your mortgage application
Do you have all of these documents ready?
[ ] W-2 forms from the past two years.
[ ] Pay stubs from the past 30 days.
[ ] Proof of other sources of income.
[ ] Federal tax returns from the past two years.
[ ] Recent bank statements.
[ ] Details on long-term debts like car or student loans.
[ ] ID and Social Security number.
It's the home stretch! Getting familiar with the standard closing documents ahead of time can make the closing process less nerve-wracking. By this point, you should also know what you'll owe when you sit down to sign the loan paperwork so you won't be caught off guard by closing costs — some of which may be negotiable.
Negotiate for the seller (or even the lender) to pay some of the closing costs or other prepaid items, such as taxes.
Congratulations, you're a homeowner!
Steps to buying a house: Summary
Check your credit score. The higher your score, the more loan options you'll have.

Set a down payment goal. Track your savings and put down the most you can.

Find the best mortgage for you. Consider loan options, calculate your monthly payment.

Find the right mortgage lender. Shop multiple lenders; compare mortgage origination fees.

Get preapproved for a mortgage — then shop. Now you're considered a serious home buyer.

Submit your mortgage application. Provide paperwork; respond quickly to requests for more info.

Close on your home. Prepare for closing costs; negotiate what you can. Get the keys!