Is Tuition Insurance Worth It?
Tuition insurance can be worthwhile if your college doesn't have a generous refund or medical withdrawal policy.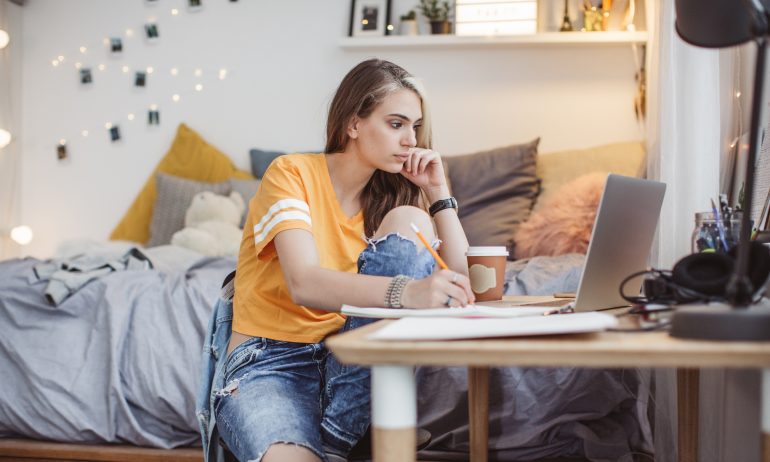 Many or all of the products featured here are from our partners who compensate us. This influences which products we write about and where and how the product appears on a page. However, this does not influence our evaluations. Our opinions are our own. Here is a list of our partners and here's how we make money.
Learn more about how much college could cost — and, how to afford it:
Tuition insurance, which pays out if you need to leave school, can be worth the cost if your college does not have a sufficient refund or medical withdrawal policy.
Schools typically have guidelines around who is eligible for a refund and under which circumstances, but those rules can be hard to find and are often ambiguous.
Some colleges allow students to withdraw for medical reasons and finish their coursework after they recover for no additional charge. Others are much less flexible. Before buying tuition insurance, verify your school's refund and medical withdrawal policies.
Ask your school's registrar's office about its policies. If it doesn't have the information you're looking for, ask a representative to direct you to the right office. If you're uncomfortable with what you find, tuition insurance can provide peace of mind and a refund if you have to leave school.
Tuition insurance costs can vary depending on school costs, but plans are often available for under $200 per semester. Fees are generally lower (about 1% of college costs) if your school provides its own tuition insurance or partners with a third-party provider. Expect higher fees (about 2% of costs) if you purchase insurance directly from a third party.
Read the details of any tuition insurance policy to make sure its coverage is adequate for you. Not all policies offer the same coverage levels. For example, some don't cover claims based on COVID-19 or other outbreaks.
Tuition insurance coverage
Tuition insurance reimburses you for lost college costs if you leave school for a qualified reason. It typically covers nonrefunded money for tuition, fees, room and board.
Qualified reasons are normally health-related and can include unexpected injury and illness, ongoing or chronic illness, and mental health conditions.
You can typically buy tuition insurance up to the day of your first class. Some colleges also allow you to buy insurance as part of the tuition payment process, which makes it easy to use your student loans and other aid to cover the costs. Your school might even include tuition insurance as part of its cost of attendance.
Some insurance policies may include COVID-19 or pandemics in general, but that is not standard across the industry.
If your plan does include COVID-19, verify the details of that coverage. Generally, the plan will pay out only if you contract the disease. You likely won't receive any benefit if you withdraw because of fear of getting COVID-19 or if you withdraw because your school changed its instruction method due to the pandemic. And just because an insurer covers COVID-19 for the fall semester doesn't mean it would continue to provide that coverage in the future.
Cost of attendance (COA)
is your estimated annual school cost, including tuition and fees, books and supplies, room and board, transportation and personal expenses. Colleges subtract your expected family contribution, or EFC, from their
cost of attendance
to calculate the maximum amount of need-based aid you can receive. Expected family contribution is the amount the federal government estimates your family can pay for college.
A
student loan
is money you borrow from the federal government or a private lender to help pay for college costs, like tuition, supplies, books and living expenses. Federal student loans typically have lower interest rates and more flexible repayment options than private loans. Borrowers should exhaust
student loans
from the federal government before applying with private lenders.
Tuition insurance
is a means of providing protection from lost tuition, fees and room and board if you leave school for a qualified medical reason. You should consider buying
tuition insurance
only if your college does not have an adequate or flexible refund or medical withdrawal policy.
Spot your saving opportunities
See your spending breakdown to show your top spending trends and where you can cut back.