What Is Personal and Advertising Injury for Businesses?
You could be sued for personal and advertising injury if your actions cause harm to another individual or business.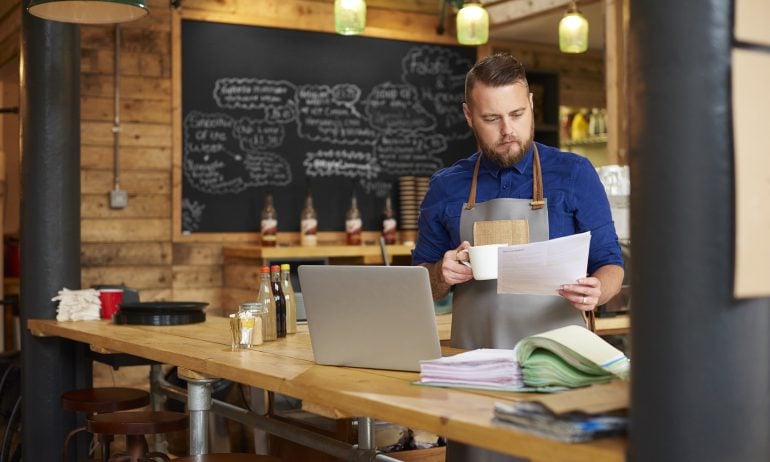 Many or all of the products featured here are from our partners who compensate us. This influences which products we write about and where and how the product appears on a page. However, this does not influence our evaluations. Our opinions are our own. Here is a list of our partners and here's how we make money.
Damaging someone else's reputation, hurting their public image or detaining them against their will can have serious repercussions for your business: Your company could be held liable for personal and advertising injury.
Personal and advertising injury claims can impact your business, even if your offense is unintentional. Fortunately, general liability insurance coverage can protect your finances in the event of a claim against you.
What is personal and advertising injury?
Personal and advertising injury occurs when you or your employees commit the following violations:
Misappropriation of advertising ideas.

Wrongful entry, eviction or invasion of privacy.
It's important to note that you can be held liable for any of these actions even if your intent was not malicious, or if you were unaware that you had committed a violation.
While both types of injury have some overlap in definition and are insured under the same coverage, there are slight differences between personal injury and advertising injury.
In this context, personal injury does not mean bodily harm where you hurt someone in a physical way. Instead, you can be accused of inflicting personal injury if you:
Invade someone's privacy.

Have someone arrested, detained or imprisoned without lawful justification.

Libel or slander them or their business, products or services.

Maliciously prosecute them.
Here are some examples of personal injury scenarios that could put you at risk of a liability lawsuit.
If you suspect that someone in your shop has stolen something, you or your security team may want to hold them in the store until police arrive. But if it turns out that your assumption was wrong, the person you detain could file a lawsuit claiming that you detained them without the legal right to do so.
And even though you may reasonably be able to defend yourself with a shopkeeper's privilege, the legal process can be time consuming and damaging to your business reputation. In this situation, your personal injury coverage would help cover the costs of legal representation.
You might strongly believe that another business or individual sells inferior products, or have some other reason for wanting to publicly speak against them. But you could find yourself and your business slapped with a lawsuit if you damage their business or personal reputation through negative publicity.
Disparaging statements that are spoken are considered slander, while written, printed and otherwise visual defamations are considered libel. Both types of defamation are grounds for a liability suit, although slander can be harder to prove without recordings. And whether you are wrong or right, the legal proceedings can be expensive and have the potential for further reputation damage on both sides.
You could be accused of causing advertising injury if you infringe on someone else's copyright, libel or slander them or their business, copy their advertising ideas, or use someone's name or image without permission.
Furthermore, even if you inadvertently misappropriate someone else's intellectual property — if you did not act with malicious intent — you could still be accused of causing advertising injury.
You could choose a name or logo for your business that already belongs to another company, or could reasonably be considered too similar to an existing brand to the point where potential customers would be confused or misdirected. And while courts, states and various jurisdictions can differ on where they draw the line for copyright infringement, you would likely want to rely on your insurance coverage to help you pay for the expense of legal representation.
What does personal and advertising injury insurance cover?
Personal and advertising injury insurance pays for expenses related to legal claims of liability against you that fall under the categories of violations mentioned above, where the other individual or business is harmed by your actions.
A general liability insurance policy includes personal and advertising injury protection, also known as Coverage B. Personal injury and advertising injury coverage are always bundled together under Coverage B, and are a standard component of general liability insurance policies.
General liability is extremely important for small businesses, even if you are your only employee. If you hire contractors who are not employed full-time by you, for example, you could still be held liable if they commit personal or advertising injury while on the job for you.
What isn't covered by personal and advertising injury insurance?
Personal and advertising injury insurance will not cover any intentional acts of harm that you commit. If you knowingly libel or slander another person or business, you cannot claim coverage for the resulting legal claims against you.
Coverage B also does not include protection against claims of bodily injury or property damage liability, which fall under the Coverage A section of general liability insurance. And if your actions harm an employee rather than an individual unaffiliated with your company, you would need workers' compensation insurance to protect you from that claim.
It also is important to read the fine print on your general liability insurance policy, as some insurance policies may not cover claims that are brought against you for incidents that took place outside of your coverage dates. Coverage timeframes are especially important to keep in mind if you decide to switch insurance policies or providers, since you may end up with a gap in insurance protection.
General liability insurance is not the same as professional liability insurance. The advertising injury insurance protection clause extends only to your company itself. For example, you will need to purchase dedicated liability coverage if you own an advertising agency or media corporation that publishes advertising and promotional material on behalf of your clients or other entities.
Finally, the dollar amount of your general liability insurance protection may not sufficiently cover all expenses associated with a personal and advertising injury claim. If an allegation against you is serious, legal and settlement expenses can surpass the limits of your liability coverage. To prevent this outcome, you may consider investing in an umbrella insurance policy that can pay for additional costs beyond your regular coverage.
How can I avoid causing personal and advertising injury?
Business insurance provides an important layer of financial protection against liability claims of personal and advertising injury. However, the best form of defense is to avoid trouble altogether by establishing best practices to avoid overstepping potential boundaries.
If you need images for public advertising use, for example, it's a good idea to subscribe to a stock photo site instead of searching for images on the internet. And, even when using images purchased through a stock photo subscription, make sure to read the fine print on each image's rights to ensure that you aren't using something incorrectly.
How do I get personal and advertising injury insurance?
You can purchase general liability insurance, which includes personal and advertising injury insurance, as a stand-alone product. Or you can purchase general liability coverage as part of a business owner's policy, or BOP, which combines several common types of business insurance.
Your costs for general liability insurance will vary based on your industry, business size and several other factors. As a general rule, many small businesses can expect to pay around $50 per month for coverage.
What's the best fit for your business?
Answer a few questions and we'll match you with an insurance partner who can help you secure quotes.